Free Gift of "Junk Whisperer" Bumper Sticker!
JUST LEAVE A COMMENT TO WIN!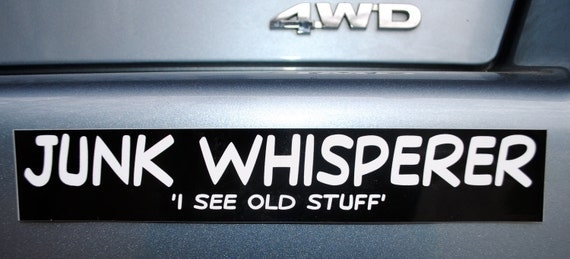 OK....I have never had a computer to crash on me....until 2 hours and 27 minutes ago. Since that moment of extreme technological meltdown on my part....I have been attempting to upload this blog post from my husband's PC. FYI: I have a Macbook. Whatever knowledge may have been in my brain about Windows has shriveled up into a rotted raisin in my brain, and is slowly and pathetically oozing out of my fingers like they have suffered a medical collapse. My picture was upside down for over 47 minutes before I figured out how to fix it. Ahhhhhhhhhrgh!
Enough whining.
Now...to today's Christmas Free Gift...
My Number One Selling Bumper Sticker...
"JUNK WHISPERER"!!!!
There is nothing more gratifying for me than to pull up behind a car in traffic that has this delicately placed on the rear of their vehicle. A quick waft of kindred spirit always blows by upon visual. Anybody that would place this on their car are...
MY PEOPLE!
May the winds of broken technology breeze on by.....
_______________________
THE WINNER OF THE 8th DAY OF CHRISTMAS IS:
D
ARLA (there was no blog link, will need you to email me address and full name,like below)
Please email me your full name, name of your blog address (we will share on

each post) and address to:

alexalett@comcast.net




How name is selected: As the comments are received they are given a number.

One of those random numbers is selected through "random number generator".

That number corresponds to each comment. Example: 4 people leave comments,

1-4 is entered into the generator and a number is selected. The number selected

is the winner of the Christmas Free Gift!

You can win more than one time!

No more than one entry/comment per person each day.